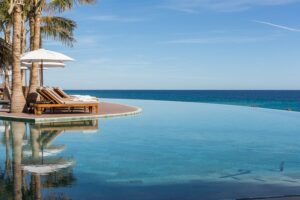 Guacamole al gusto / Guacamole
$160
Con tocino, camarones, elote, queso cotija, chicharrón de puerco o piña
With bacon, shrimp, corn kernels, cheese, pork rinds or pineapple
Alitas estilo Coreano / Korean style chicken wing
$220
Semillas de ajonjolí, cebolla cambray, con crudités y aderezo de hierbas
Sesame seeds, onion, crudites and herbs dressing
Ceviche de pescado del día / Catch of the day ceviche
$300
Con leche de tigre, leche de coco, menta, manzana verde y tomatillo
With tiger milk, coconut milk, mint, green apple and green tomato
Aguachile de NY a la parrilla / Black grilled NY aguachile
$280
Cebolla morada encurtida, aguacate, chips de ajo, cilantro, chile serrano, aguachile con cenizas
Red pickled onion, avocado, garlic chips, coriander, serrano chile, aguachile with ashes
Tiradito de atún aleta amarilla / Tuna tiradito
$280
Aderezo Nikkey de tamarindo con jengibre, pepino, aguacate, cebolla cambray, chile serrano, alga de mar y wonton frito
Nikkey tamarind dressing with ginger, cucumber, avocado, onion, serrano chile, seaweed and fried wonton
De la granja |

From farm to pool



Jamón «Speck» y durazno a la parrilla / «Speck» ham and grilled peach
$250
Mezcla orgánica de lechugas, queso fresco, pistachos tostados, aderezo de reducción de jamaica y vinagre de frambuesa
Organic mixed lettuce, fresh cheese, toasted pistacchios, hibiscus and raspberry dressing
Salmón zarandeado con corazón de romana / Zarandeado style salmon with romaine lettuce heats
$270
Pimiento morrón, aguacate, cebollín, emulsión de chile guajillo, naranja
Bell pepper, avocado, chives, chile guajillo emulsion, orange
Ensalada fresca / Fresh salad
$270
Mezcla orgánica de lechugas, jícama, pepino, toronja, naranja, cebolla morada, con vinagreta de cítricos, menta y chile quebrado
Organic mixed lettuce, jícama, cucumber, grapefruit, orange, red onion, citrus vinaigrette, mint and chili flakes
Hamburguesa Velas / Velas Burger
$320
Top sirloin, cebolla asada, tomate, queso cheddar, pepinillos, tocino, en pan brioche hecho en casa
Top sirloin, grilled onion, cheddar cheese, pickles, bacon, homemade brioche bread
Pita de shawarma de pollo / Chicken Pita shawarma
$290
Pollo con ajo y especias, cebolla morada, pepino, tomate, lechuga, salsa tzatziki
Chicken with spices and garlic, red onion, cucumber, tomato, lettuce and tzatziki sauce
Sándwich de pecho de res braseado / Brisket Sandwich
$270
En pan brioche hecho en casa, queso Cheddar, cebollas caramelizadas, salsa de mostaza
In homemade brioche bread, Cheddar cheese, caramelized onions, mustard sauce
Tostada de tomate confitado / Confit tomatoe toast
$250
Pan sourdough, con baba ganoush, ralladura de limón real, aceituras Kalamata, aceite de oliva y espinacas
Sourdough bread, baba ganoush, lemon zest, Kalamata olives, olive oil and spinach
Tacos de pescado rebozado / Fish Tacos
$220
Tortilla de harina, pescado frito, mayonesa de sriracha, salsa mexicana y col morada, con salsa tatemada
Flour tortilla, fried fish, sriracha mayonnaise, pico de gallo, red cabbage, spicy sauce
Tacos de camarón al pastor / Shrimp tacos al pastor
$280
Tortilla de maíz, piña, aguacate, pepino, cebolla, cilantro, con limón y salsa.
Corn tortilla, pineapple, avocado, cucumber, onion coriander, with lime and spicy sauce.
Tacos de alambre de arrachera / Flank steak tacos
$280
Tortilla de maíz, cebollas asadas, pimientos, queso, tocino, salsa de aguacate, servidos con chiles toreados y pico de gallo.
Corn tortilla, grilled onions, bell peppers, melted cheese, bacon, avocado sauce, served with chili and pico de gallo.
Para los niños |

For the kids



Pollo Teriyaki / Teriyaki Chicken
$180
Con arroz blanco y brócoli
With white rice and broccoli
Mini hamburguesa de res/ Mini beef burguer
$180
Dedos de pollo / Chicken fingers
$130
Sándwich de atún con aguacate / Tuna and avocado sandwich
$110
Ensalada de frutas con menta / Fruit salad with mint
$110
Ginebra, Aguacate, Crema de Coco, Agua de Coco y Leche Carnation
Gin, Avocado, Coconut Cream, Coconut Water & Cream
Tequila Blanco, Fresa, Naranja y Menta
White Tequila, Strawberries, Orange Juice & Mint
Vodka, Mango,Limón, Menta y Cerveza de Jengibre
Vodka, Mango, Lime, Mint & Ginger Beer
Margarita picante de pepino / Spicy cucumber Margarita
$150
Tequila Infusionado con Chile, Licor de Naranja, Pepino, Jugo de Limón, Miel de Agave
Tequila infused with Chili, Orange Liqueur, Cucumber, Lime Juice, Agave Honey
Ron de Coco, Plátano, Menta, Naranja y Piña
Coconut Rum, Mint, Orange & Pineapple
Tequila blanco, Limón, Jarabe Natural, Amaretto
White Tequila, Lime, Simple Syrup, Amaretto
Bourbon, Maracuyá, Limón, Piña, Agua Mineral
Bourbon, Passion Fruit, Pineapple, Lime, Club Soda
Vodka, fresa, naranja, limón, jarabe natural
Vodka, strawberry, orange, lime juice, syrup
Capitan Morgan, malibú, piña, arándano
Capitan Morgan, malibú, pineapple, cranberry
Ginebra, naranja, fresa, romero y limonada rosada
Gin, orange juice, strawberries, rosemary & rose Lemonade
Vino espumoso, maracuya, Licor St. Germain
Sparkling wine, passion Fruit & St. Germain Licor